Relief from Pain, Return to Activity
My practice style supports the foundations of health, such as restful sleep, self-love and emotional wellbeing, and pain free movement. I espouse the principle of "Doctor as Teacher" (Docere) coexisting with the recognition that you will always be among my greatest teachers. I am going to listen to you while creating a safe, non-judgmental environment to explore your situation.
My goal for every treatment is:
Immediate progress towards your most concerning issue.
Same-day relief from musculoskeletal pain.
Freedom from stress and joy from the experience of having cultivated a deeper relationship with your health.
Resolving pain with a variety of therapies
I use a broad set of therapies to help you return to the activities you love. Therapies include acupuncture, cupping, East Asian and Western herbs, manual adjustments, and instrument assisted techniques. I employ these same therapies in sports medicine to support injury recovery and performance enhancement.
I will empower you with the latest and most current scientific understanding of chronic pain patterns, which can be resolved at the level of the nervous system. Each of the hands-on tools I use enhances your range of motion, adjusts what your body perceives as "safe" movement patterns, and optimizes your  inflammatory and pain response mechanisms. It's also important to provide your body with ideal substances, whether herbal or in the form of nutrition, to ensure strength, durability, and resilience throughout your life.
Articles about chronic pain
Helping women face menopause with strength
I strive to support healthy aging for all my patients, particularly helping female-bodied individuals face menopause with strength, grace, and confidence. I deploy a diverse set of modalities to:
Offer a sense of comfort in your body
Maintain strong bones
Promote a calm mood
Sleep throughout the night
In order to calm the spirit, for example, we might opt for a gentle, constitutional form of acupuncture known as "five element", alongside homeopathy as a western form of constitutional therapy. Targeted nutritional therapy as well as herbal support might serve to improve sleep, ameliorate hot flashes, and along with therapeutic exercise, strengthen bones to resist osteoporosis and age-related fractures. By providing the nervous and hormonal systems with their optimal influences, balance can be reestablished, allowing the body to access the resources needed to adapt to this time of change.
Read about why I recommend strength training for osteoporosis
Remedying your long-term sleep problems
Are you tired and fed up with struggling to obtain a good nights' sleep? You are certainly not alone, and unfortunately, insomnia has become a modern health epidemic. I'm excited to report that the natural toolkit supports quality sleep.
We'll identify the best approach for you by examining:
Energy patterns throughout a given day
Your typical diet
Daily stressors
Activity levels
A typical treatment plan to address insomnia will involve herbal medicine to soothe the nervous system and enhance resistance to daily stresses, dietary modifications to ensure that energy is stable throughout the day, and perhaps optimizing your physical sleeping environment. There is no medicine more powerful than the habit of sleeping restfully, so let's work together on this priority!
The tools I often utilize are:
Patient Education
Nature Cure
Western Biomedicine
Educational Background, Board Certifications, and Professional Affiliations
My introduction to natural medicine came during my time as a collegiate athlete, where I experienced the effectiveness of acupuncture in treating sports injuries and pain due to contact sports. Also at that time I was pursuing a course of study in cultural anthropology, which afforded me an academic avenue to gain an understanding of the extraordinarily rich, millenia-old cosmology of East Asian civilization from which acupuncture and Chinese herbal medicine trace their roots. Before pursuing graduate studies in east Asian and Naturopathic medicine, I spent a number of years campaigning for grassroots political organizations, advocating for expansion of renewable energy and public transit infrastructure, wilderness preservation, consumer advocacy, and the inception of the Affordable Care Act.
Doctorate of Naturopathic Medicine, National University of Natural Medicine, Portland OR
Master's of Science in Acupuncture and Oriental Medicine, Bastyr University, Kenmore WA
Bachelor's of Arts Major: Anthropology University of Colorado, Boulder CO
Diplomate of Acupuncture Board Certification NCCAOM
Outside of Work
When not seeing patients, I'm enjoying the multitude of outdoor activities that the great Northwest offers, pursuing my hobbies of olympic weightlifting and strength training, developing my culinary palate thanks to Portland's amazing food scene, and relishing the peaceful silence of mindfulness meditation.
Contact and Scheduling
If you are a new patient and have a question about me or my services, please email me at [email protected]. Existing patients may contact me through the Charm Patient Portal.
To schedule an appointment, please call (503) 956-9396 or email [email protected].
You are welcome to write a review of my services on Google or Facebook.
Sign-up to receive Dr Nesbitt's
Free Patient Pain Manual
Learn how our new understanding of pain combined with natural therapies will bring you sustained relief.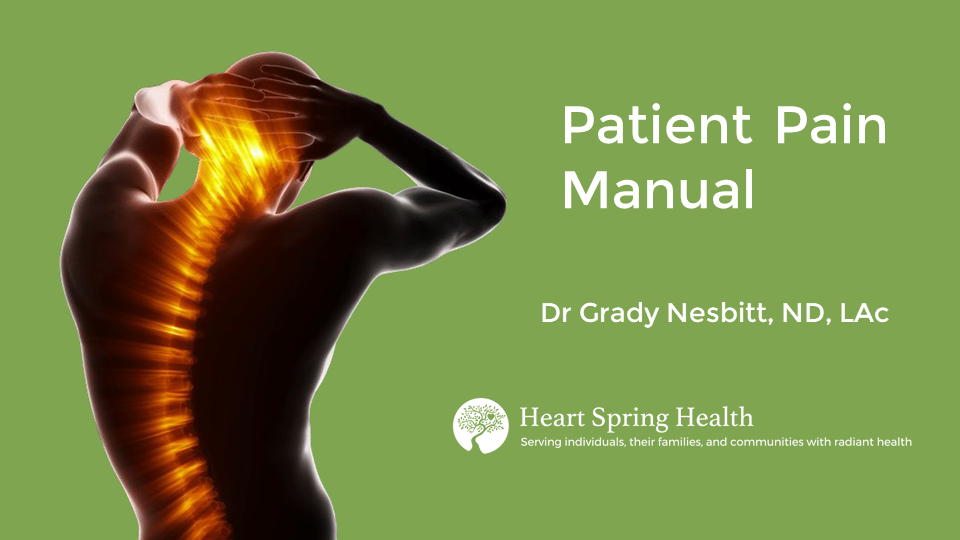 You will receive our occasional clinic newsletter and emails from Dr Nesbitt.