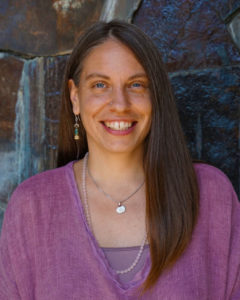 Laura Allmacher is a Licensed Acupuncturist and Chinese Medicine Practitioner at Heart Spring Health in SE Portland, Oregon
I offer acupuncture and Chinese herbal medicine services infused with my unique background of skills as a nurse, astrologer and natural health provider. As a practitioner, I will work deeply with you, providing patient-centered care and structuring a plan tailored to your wellbeing. Whether you are looking for help in the moment or a longer-range life-healing experience, I am dedicated to working with you.
How I work
With a nurturing and holistic approach, my treatments enliven your body to its own healing potential. Our session will begin by getting to know you and the reason for your visit along with performing a non-invasive Chinese medicine assessment. By connecting with you and and tuning into the messages of your body, we will create a treatment plan to best help you along your path of wellbeing.
I address physical issues, while delving deeper into helping release stuck emotional and energetic patterns living in the body's tissues. My focus is to gently guide you into a greater connection with yourself and your body to invite more healing to happen. Everyone's journey is unique. We will work together to create the space and pace that feels right for you, while holding the vision of your best self.
As your practitioner, my goal is to optimize your highest potential in health and happiness!
What I treat
I welcome anyone, whether for continued wellness or help with a specific concern, including:
Anxiety
Depression
Woman's health
Acute/Chronic Pain
Digestion/Bowel issues
Grief and Loss Transitions
Emotional/Trauma Healing
As an Acupuncturists working with Chinese Herbal medicine, my practice includes gentle and non-needle techniques. I also incorporate cupping, gua-sha, and moxibustion, essential oils, vibrational sound healing (tuning forks) and energy medicine into treatment, as needed. These supplementary healing tools are applied to acupuncture points, providing additional support in harmonizing your body and mind.
As a Professional Astrologer in Portland, I find interpreting birth charts to be a beneficial tool for your wellbeing. During your acupuncture appointment, there is an option to briefly look into your astrology chart to gather more useful information to help with your treatment. You can also schedule a session with me to receive a full personal reading to gain more clarity for yourself. What motivates me the most about providing astrology readings is how individuals find this information incredibly helpful in understanding themselves and their lives more fully.
My patients say
"Laura is a highly intuitive, multifaceted healer. She brings a breadth of knowledge, talent and experience to her work. Most remarkably, because of the incredible personal work she's done, she can skillfully and compassionately meet clients as deeply as they wish, simultaneously working through emotional, physical, energetic and spiritual layers of their being." ~ Nicole
"Working with Laura has changed my life. Laura brings so much to her practice: her skills and understanding of the conventional medical model as a registered nurse, energy work of all sorts, acupuncture and TCM, and selecting treatments based on my needs–which her assessments reveal with astounding clarity even when I'm not sure how to express them myself. I was recovering from cancer treatment and was so glad to find an acupuncturist with an understanding of the medical trauma I experienced. I've been seeing her for several months and not only has my fatigue, nausea, and pain decreased dramatically, I've also gained ease and self-compassion. Talk about grace! I'm so grateful to Laura for her skill and care." ~ Annie
"WOW! Need help navigating your life, get an astrological reading from Laura! I have had her readings for many years and found the insight she provides me to be such a wonderful tool that assist me in not only navigating my life but in understanding who I am and what I am here to do. She has a unique way of explaining the planets and what they mean to me that empowers me to take the information and make decisions that move me forward with ease. Even the harsher times are easier with Laura's advise as to the best way to get through them. I have also been able to strengthen my relationships with the understanding that Laura has provided in my readings. A reading with Laura will be the best gift you ever gave yourself!" ~ Debbie
Outside of work
You can find me hiking and exploring the forests of the Pacific Northwest, meditating, writing, practicing qigong, sipping tea and enjoying the company of wonderful friends.
Education and Background
I am a Licensed Acupuncturist in the state of Oregon, board-certified in Acupuncture by the National Commission (NCCAOM), and a Registered Nurse (RN). I completed my Master of Science Degree in Oriental Medicine in Portland at the National University of Natural Medicine and my Bachelor of Science and Nursing Degree at Michigan State University. While living in Michigan, I also pursued additional training in Natural Health and Astrology at the Naturopathic Institute of Therapies and Education and the Learning Center for Astrological Studies, respectively.
I have been offering professional astrology readings since 2008.
With a significant number of years of professional work experience in the hospital as a Registered Nurse, I have become a bridge for patients, helping them to navigate between the Eastern and Western medical paradigms.
Modalities
Acupuncture
Chinese Herbal medicine
Cupping
Gua-Sha
Moxibustion
Essential oils
Astrology
Energy medicine
Vibrational Sound healing
Motor Vehicle Accidents
Contact and Scheduling
You can reach me at [email protected]. To learn more about my personal work with astrology, please visit my website.
To schedule an appointment, please call (503) 956-9396 or email [email protected]. Online scheduling is available for return patients only and not all available appointments may be shown online.
You are welcome to write a review of my services on Google or Facebook.