Warm up with this soothing lentil soup sure to keep you feeling cozy, and nourished during the busy holiday season. 
Ingredients
1 medium yellow onion, diced
3 ribs celery, diced
2 medium carrots, peeled and diced
4 cloves garlic, smashed, peeled and minced
1 tablespoon grated fresh ginger
1 pound red lentils, sorted and rinsed
1 teaspoon turmeric powder
1 teaspoon coriander powder
2 quarts bone broth of choice, or vegetable broth
1 bay leaf
1/2 (5-ounce) box baby spinach, roughly chopped (about 2 cups, chopped)
Freshly ground black pepper to taste
¼ cup fresh lemon juice
Garnish: Dollop plain greek yogurt, sour cream, etc.
Instructions
In a large heavy bottomed soup pot, sauté onion, celery, carrot and garlic over medium heat for about 5 minutes, just until tender, adding a couple tablespoons of water or broth to prevent sticking. Add ginger, lentils, turmeric, coriander, broth and bay leaf, bring to a boil, reduce heat to low and simmer, uncovered for 25 minutes.
Remove bay leaf, add spinach, stir and cook for 2 minutes or just until spinach wilts. Add lemon juice and black pepper to taste, stir and serve.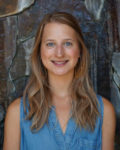 Mary Bailey, RDN, MS is a Portland nutritionist who believes you can be healthy and enjoy food. Mary will help you learn to trust and feel comfortable with your body with empowered, knowledgeable food decisions. She received her Masters of Science in Holistic Nutrition through the National University of Natural Medicine where many of the ND's at the clinic also completed their education. Learn more about Mary
Adapted from: https://deliciouslygreen.com/healing-red-lentil-soup-with-turmeric-ginger/