It was another dreary day in Portland. But, despite the rain, it was Wednesday and that meant the People's Farmers Market was in session. I had heard great things about this market but had yet to go.  So, after classes ended around 4:30, I headed across the river to see what all the fuss was about.  The market was small and intimate, just the kind of place I was hoping to find after a long day.  However modest it was, there was still a wide array of produce, fresh breads, vegan treats, cheeses, grains, beans, and more to choose from.  The distinguishing factor of this market versus the others I've ventured out to was its availability of tinctures and other herbal remedies that I have not come across before.  This was a nice change of pace and I will definitely be returning to learn more about these businesses.  However, my mission today was to find produce, and hopefully something I had not cooked with before. I was greeted with a variety of greens and root vegetables I had never used before such as celeriac, sunchokes, and brussels sprout greens all of which were grouped together and calling my name. So, I purchased a little of each and planned to use each of them in one way or the other.  This is one of the many reasons I love shopping at farmers markets during the winter months.  It is always pleasantly calm without the crowds of people, and there are always new vegetables that end up making there way onto my plate and teaching me how bountiful winter vegetables can really be. 
People's Farmer's Market
3029 SE 21st Ave.
Wednesdays 2-7pm (year-round)
Simple Roasted Sunchokes:
Ingredients:
2-3 large sunchokes, slices 1/4-inch thick

2 tablespoons olive oil

½ teaspoon salt

1 sprig fresh rosemary, leaves removed

3-4 cloves garlic, peeled and left whole

Directions:
Preheat the oven to 425 degrees F. Scrub the sunchokes under cold running water and slice 1/4 –inch thick. 

Add the sunchokes and garlic to a roasting pan or baking sheet and toss with the olive oil so the bottom of the pan and the sunchokes and lightly coated.

 

Add more olive oil a tablespoon at a time if you don't feel like the vegetables are coated enough, but not too much so they are not swimming in oil.

Sprinkle with the salt and rosemary. 

Bake for 15-20 minutes, until the sunchokes are tender inside, like a potato.

Feel free to top steamed brussels sprout greens with the roasted sunchokes!
Recipe adapted from: http://www.thekitchn.com/try-this-roasted-sunchokes-105348
Cooked Brussels Sprout Greens:
Ingredients:
1 tablespoon olive oil

1 clove garlic, minced

1 bunch brussels sprout greens, cut horizontally in 1-inch ribbons

½ lemon, squeezed

Salt and pepper to taste
Directions:
Heat oil in a pot.

 

Add in minced garlic and cook until slightly golden.
Add greens and steam them by putting the top on the pot.

   

Let them steam until tender, about 8 minutes.

Once tender, place them on a plate and squeeze lemon juice, salt, and pepper over top.
Celeriac Mash:
Ingredients:
1 medium celeriac, cut into 1/2-inch pieces

1 small russet potato, cut into 1-inch pieces

Salt

1 granny smith apple, peeled, cored, and cut into 1-inch pieces

½ cup coconut cream

2 tablespoons grass-fed butter or coconut oil

1 bay leaf

Freshly ground black pepper
Directions:
Place the celeriac and potatoes in a large pot of salted, cold water.

 

Bring to a boil.

 

Boil for 10 minutes then add the apple.

 

Continue to cook until all tender, another 10-12 minutes.

While vegetables are cooking, heat the coconut cream, butter or coconut oil, and bay leaf in a small saucepan over medium heat.

Drain the cooked vegetables and apple and return them to the hot, dry pot.

 

Stir them over low heat for 2 minutes until they are dry.

 

Pass ingredients through a food mill into a bowl. Gently stir in the hot cream and butter/oil mixture until smooth (remove the bay leaf). 
Alternatively, you can puree the vegetables and apple together with the liquid mixture in a food processor.

 

Season puree with salt and black pepper. Serve warm.
Recipe adapted from: http://food52.com/recipes/1077-autumn-celeriac-celery-root-puree
Benefits of Eating with the Seasons:
Produce harvested at peak ripeness generally is higher in vitamins, minerals, and antioxidants compared to produce picked before ripeness the packed and shipped long distances.

Eating locally is good for the environment and the local economy: it supports local farmers and businesses, cuts down on air pollution by reducing truck and food shipped emissions, and reduced your overall carbon footprint.

It allows you to enjoy the outdoors by visiting local Farmers Markets, picking your own produce, or tasting the freshness that comes with seasonal produce.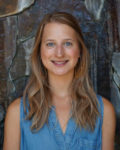 Mary Bailey is the Registered Dietitian at Heart Spring Health in Southeast Portland, Oregon. She completed her 1,200 Dietetic Internship hours with a variety of experienced RD's throughout the Portland area, covering a wide variety of conditions and populations. She received her Masters of Science in Holistic Nutrition through the National University of Natural Medicine where many of the ND's at the clinic also completed their education. Along with continually learning, Mary spends her time exploring the outdoors, cooking, spending time with friends and family, and traveling. Learn more about Mary