Its winter here in Portland, which might get you thinking, "that's the end of the Farmers Markets, right?" Think again. We are blessed to be living in a place where hearty winter vegetables like cabbage, kale, or squash can grow year-round with a little bit of TLC (and maybe a makeshift greenhouse). Although it may not be the most pleasant of seasons
to leave the warmth of your home and head out into the rain to buy your vegetables, it is an experience worth suiting up for.
This past Saturday morning, I had the opportunity to venture out to the Portland State University Farmers Market located between SW Park and SW Montgomery. I was pleasantly surprised to see that my fellow Portlandians decided to throw on their rain jackets and join me on that chilly, rainy morning. It felt as if we were all in it together and the positive energy was palpable. Although it was not nearly as busy as it was in the more pleasant of seasons, it was a refreshing and more mellow way to enjoy the market.
I was not sure what I would find splayed out on the stands, but as I looked around, the colors were breathtaking. Bright oranges and yellows from the squashes and carrots, vibrant greens from the kale and leeks, deep purples from the red cabbage heads, and a plethora of other gems just waiting to be taken home. There was turmeric and ginger roots, brussels sprouts, celery, sweet potatoes, turnips, parsnips, pears, apples, a variety of unique mushrooms, and the most peculiar looking radish varieties I have ever seen. My mind was buzzing with recipe possibilities.
I collected what I needed and headed home to where my ideas unfurled into a nutritious dish I am sharing with you today. So, next Saturday morning choose to grab a drip coffee from the Farmers Market and peruse the endless varieties of vegetables, fruits, herbs, baked goods, cheeses, and more.
Bean Soup with Cabbage, Winter Squash, and Farro  
Recipe adapted from cooking.nytimes.com
Time: 3 hours, 45 minutes (less time with canned beans)
Servings: 6
Ingredients:
½ pound pinto beans, soaked overnight or for six hours in 1 quart of water (for a faster method, canned pinto beans can be used as well)
2 tablespoons extra virgin olive oil
1 medium onion, chopped
1 medium carrot, chopped
1 small celery stalk, with leaves, chopped
2 teaspoons chopped fresh sage
4 large garlic cloves, minced
1 pound green cabbage, cored and shredded
Salt
Fresh ground pepper
1 pound butternut squash, peeled, seeded, and diced, (about 2 cups)
A bouquet garni made with a few sprigs each thyme and parsley, 2 sage leaves, and a Parmesan rind
½ teaspoon dried rosemary, crumbled
1 (14-ounce) can chopped tomatoes, with liquid
½ cup faro (spelt), cooked
Freshly grated Parmesan for serving
Preparation:
Heat 1 tablespoon of the olive oil over medium heat in a large, heavy soup pot or Dutch oven. Cook the onion until it begins to soften, about three minutes. Add the carrot, celery and sage, and continue to cook, stirring, until the vegetables are tender, about five minutes. Add half the garlic. Cook, stirring, until fragrant, about one minute. Add the cabbage and a generous pinch of salt, and cook, stirring often, until the cabbage is limp, about 10 minutes. Drain the soaked beans or canned beans, and add them to the pot, along with the squash, bouquet garni and 2 quarts water, or enough to cover by two inches. Bring to a boil, reduce the heat, add salt to taste and simmer 1 1/2 to 2 hours until the beans are tender (or 30 minutes with canned beans). Remove the bouquet garni, and discard.
While the soup is simmering, heat the remaining olive oil over medium heat in a medium-size nonstick skillet. Add the remaining garlic and the rosemary. Cook for a half-minute to a minute until fragrant, and stir in the tomatoes. Add salt. Cook for 10 to 15 minutes, stirring often, until the tomatoes have cooked down and the mixture is thick, beginning to stick to the pan and delicious. Stir into the soup along with the cooked farro. Continue to simmer for another 30 minutes. Taste and adjust salt, and add lots of freshly ground pepper. Serve with freshly grated Parmesan.
Nutritional Information:
302 calories per serving; 5 grams fat; 0 grams saturated fat; 3 grams monounsaturated fat; 0 grams polyunsaturated fat; 53 grams carbohydrates; 13 grams dietary fiber; 8 grams sugars; 13 grams protein; 110 milligrams sodium
What is a "bouquet garni?"
French for "garnished bouquet," a bouquet garni is basically a bundle of herbs tied together with string and used for soups, stocks, or stews. It can be made with any variety of herbs you like and is removed before eating. It is a nice way to provide flavor without having to chop all of your herbs.
Enjoy! 
Enjoy this soup on cold winter nights (after you've been out at the Farmers Market all day!). It gets better with age, so keep leftovers in the fridge in an airtight container for up to a week. If it makes too much soup, freeze it and enjoy later on in the winter months. This nutritious soup is high in protein and fiber and will keep you full for hours. Enjoy with some nice crusty whole grain bread, a side salad, or simply on its own. All of the vegetables and herbs used in this recipe can be easily found at the PSU Farmers Markets, minus the canned goods.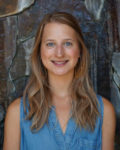 Mary Bailey is the Registered Dietitian at Heart Spring Health in Southeast Portland, Oregon. She completed her 1,200 Dietetic Internship hours with a variety of experienced RD's throughout the Portland area, covering a wide variety of conditions and populations. She received her Masters of Science in Holistic Nutrition through the National University of Natural Medicine where many of the ND's at the clinic also completed their education. Along with continually learning, Mary spends her time exploring the outdoors, cooking, spending time with friends and family, and traveling. Learn more about Mary
[Photo taken by Mary Bailey]